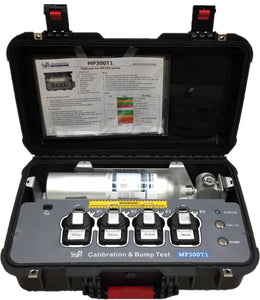 CONVENIENCE:

Bump testing, calibration, operating parameter configuration and data recording integrated platform, gas cylinder is built-in.

SIMPLE:

One button bump testing and calibration.

QUICK:

4 monitors are bump tested and calibrated at once for H2S,CO and O2 etc...

PORTABLE: r

echargeable Li-ion batteries are built-in, the case can be deployed everywhere.

RELIABLE: The

systems records bump & calibration logs by micro SD card.

ROBUST:

All in one hard case.
SPECIFICATION
Size

21.9 x 14.1 x 7.3 in.

(556 x 358 x 185mm)

Weight

 12.8 lbs. (kg)

Battery

Rechargeable Li Battery – up to 1000 bump tests on a single charge

Memory

Micro SD card

Gas outlet port

1 exhaust port

Power & communication connector

USB (type)

Logs stored

2000 Bump & calibration logs

Typical gas cylinder  available

CO/H2S/O2/LEL




Compatible with




Air Liquide/CALGAZ 58/103L cylinders

Monitor compatibility

1 - 4 MP100 monitors

Certifications

CE

Warranty

1 years
Note: Case will not come with the Gas Cylinder
Recommended Specification of Gas Cylinders:
• Outlet pressure under 725psi.
• Connection is 5/8-18UNF thread.
• Dimensions no more than 14 1/4" x 3 1/2".